I knew the market analyst in me would surface and come in handy! Here's a question for all of you regarding Smart Home Technology – DIY or Professionally Installed and Managed? Do you know the difference? Do you have a preference? If you purchased a home that had a pre-installed system but you have to sign up with a Service Provider to make your home Smart and managed Remotely by an app on your phone, would it be a Value Add?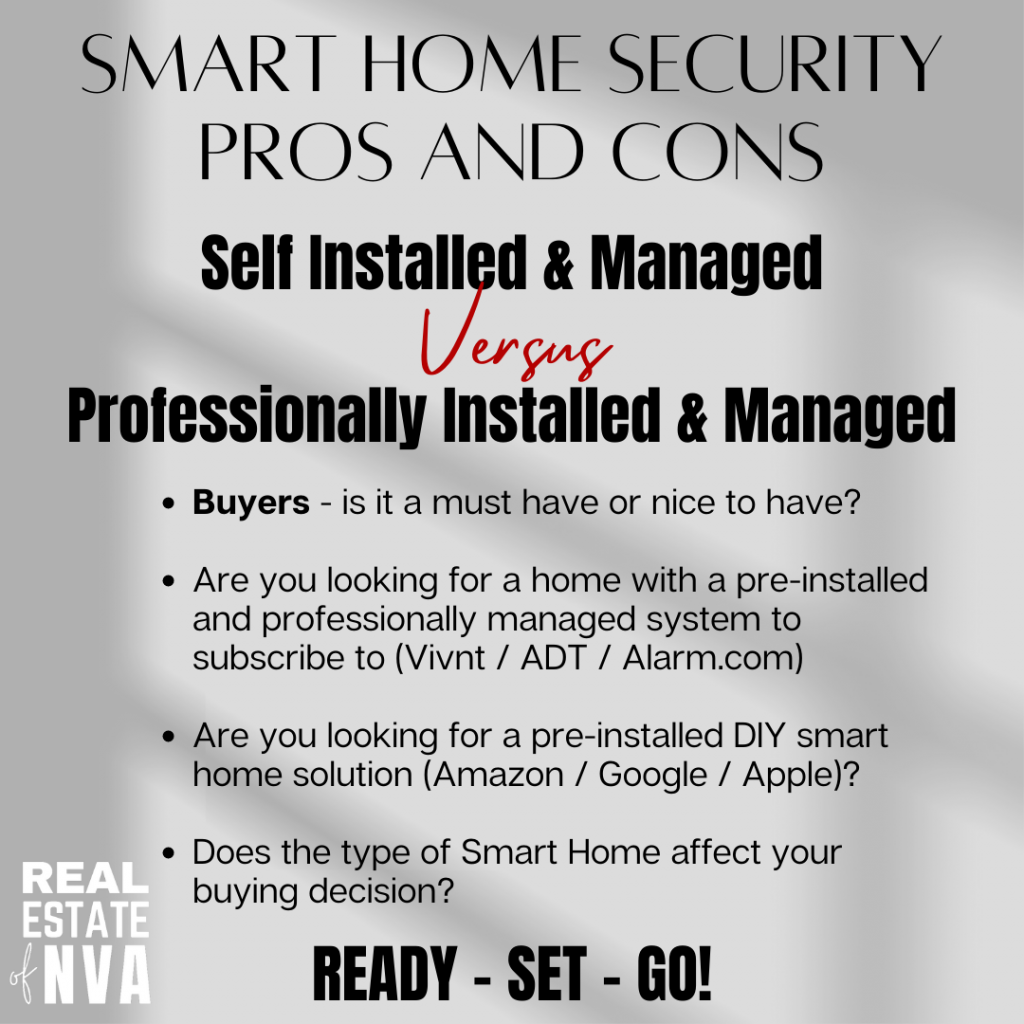 Not to lead the witness(s), I'm running into 2 technologies and have started forming my own opinion, but I thought I'd tap into the market for your opinion. The two technologies are:
1) Zigbee and solutions from: Amazon / Google / Apple – DIY install and managed
VERSUS
2) Z-Wave and the Service Provider required solutions from providers like: Vivnt, Alarm.com (and their providers), ADT, etc.
Why do I care?
1) Buyers tour a home, they see devices and assume – download software and manage yourself ….. don't assume what you see is what you think it is 🙂
2) Buyers – Do you know the difference when you tour a home?
3) Are the service provider required being Netflixed?
– Will the Service Provider required solutions adapt a self managed model?
– Will they / are they both compatible with eachother?
– Who ends up owning the Control Panel / Hub? Which technology should I prefer?
3) Sellers – do you lose buyers over the technology installed? Which one has higher market value?
Each solution has merit, but which is carrying the greatest market value? Which survives long term? Which do you prefer as a new home buyer? What are your expectations? Service provider solutions do carry with them ~$1,200 to $$1,800 worth of pre-installed equipment and a free set-up, but do carry a monthly subscription whether they are monitored 24×7 or not. DIY solutions require the homeowner to perform their own purchase, install and monitoring – no one is calling the police or fire departments in real-time during and event.
Which solution DO YOU PREFER and WHY? I'm taking a market poll! Either solution is a value-add during an appraisal, however, the market decides which functionality is of highest value.
Bottom Line
These devices are "fixtures", must convey and major systems (HVACs, smoke detectors, etc.) must function at closing (at least in Virginia). Things get tricky with these devices at time of sale in:
Keeping major systems operational without internet and a service provider
Managing buyer expectations that the Smart Home you just purchased just lost it's heart beat and you may need to sign up with a service provider and internet to resuscitate the system back to life.
Managing seller expectations who installed the Smart Home system and the debt collector who comes knocking for final payment of the system on the hardware baked into a multi-year contract and ensuring the major systems continue to work without internet and a service contract.
Now let's hear your expert opinions! Let 'er fly!
And be sure you are working with a professional who knows the differences, the impact to you in your situation and can guide you as a buyer or seller as to the best route forward!
Michele Hudnall | 703.867.3436 | [email protected]
---
Selling? Be sure to check out the Home Valuation Tool and email me for your personalized Home Value Report!
Buying? Calculate Your Future Mortgage and check out rates!
Check out the Home Buying and Selling Guides!
I look forward to speaking to you soon!