Let's dive into the July 2023 Mid-Year Real Estate of NVA Market Analysis Report – a real rollercoaster! Picture this: the market's sizzling like a summer barbecue for sellers, but it's got historically low inventory, creating a real estate riddle.
The headline news, bless its heart, points fingers at high interest rates, claiming they're playing spoilsport with sales. But the truth is, it's not all about the interest rates, folks. There are simply 25% fewer homes on the market this year compared to the last, creating a real estate version of "Where's Waldo." Interest rates do have a say in the game, but with inventory doing its best disappearing act, competition's dropped and property conditions are under the spotlight like never before.
Now, for all you market-watching 🎇 wizards out there, trying to time the market and wait for those elusive lower interest rates might just result in some premium prices and epic bidding battles. And here's the kicker – there's no magic wand that's going to make inventory suddenly grow with lower interest rates.
Sure, interest rates can be a bit of a buzzkill, but here's the silver lining: buying rather than renting can score you some sweet tax write-offs for the interest you pay. So, even with interest rates playing hard to get, you've got a tax superhero swooping in to save the day.
Let's Jump into the Highlights:
💲PRICES – STEADY RISE
    🚀 On the rise across the board
    🚀 Moderate YoY YTD appreciation in the 1 – 4% range
    🚀 July closed with a🔥surge YoY in Fairfax City 13% and Manassas City 9%
⌛️TIME ON MARKET – FLYING OFF THE MARKET
🚀 ~80% Under Contract in < 10 Days.
🚀 ~90%+ Under Contract within 2 Weeks.
🏢
🏠 SALES – DOWN DUE LESS INVENTORY
🚀 Down20%+ – not due to interest rates.
🚀 25% Less inventory on the market than 2022 – New / Active / Sold inventory trend lines are on top of each other – What comes to market sells FAST!
🚀 1 month or less of inventory in any given city, at any given price point, on any given weekend. We work week to week, yes!
💸CONCESSIONS
🚀 1 in 4 Sales has a concession of ~$9K.
🚀 Negotiability is up from 2022, however, not across the board.
🎯SALES TO ORIGINAL LIST PRICE
🚀 Homes are well priced at listing with small premiums and extreme competition for the "Pottery Barn", cream puff homes.
🚀 Just because inventory is historically low does not equal anything will sell at any price. Know your target buyer!
💰YoY YTD
🚀 Moderate appreciation, 1% – 4% throttled by inventory and interest rates.
OPINION
The big story is the lack of homes on the market. Baby Boomers / Gen X'ers are the largest home hoarders and are not selling. Millennials / Gex Z'ers are the largest target buying audience who are losing out on affordability and lack of homes on market to purchase. We are at a stalemate. The headlines would have you believe the interest rates have removed buyers from the market and home sales are down. Not totally true. Low interest rate mortgages are keeping the Boomers / X'ers in place and not selling. Don't buy into the "Hype News" peel back the layers of the onion and discover the real truth to the market. 🌞
There are buyers sitting on the sidelines WAITING to time the market with a decline in interest rates. When / If rates fall, there with be a SURGE of buyers in the market leading us back into 2020 Bidding Wars and 3 – 5 – 10% premiums with NO Contingencies again. Now is the time to make that purchase with minimal competition and the ability to perform proper inspections of you investment property.
I encourage buyers to think about three things:
Equity building with an investment
Rent is throw away and rises every year – Mortgage is fixed (if you go that route) and can be refinanced as conditions change.
Tax write off dropping your APR (Annual Percentage Rate) see below example.
Stop focusing on the micro and look at the macro picture and stop being a pennywise and a pound foolish over time. As Warren Buffett tells us, "be fearful when others are greedy and to be greedy only when others are fearful." The only guarantee we can make is the velocity and competitiveness of the market IF / when rates do drop. What happens if rates remain unchanged? 
Now, for the number crunchers, let's bring out the BankRate Calculator to make your financial life a bit more exciting. 🧙💰 In the below example, the APR (annual percentage rate) drops 2 points to 5.5%. Building equity and tax write-offs versus rising rental rates without saving or writing off ….. the things that make me go hmmmmmmm. Use the calculator to more accurately depict your personal savings and APR.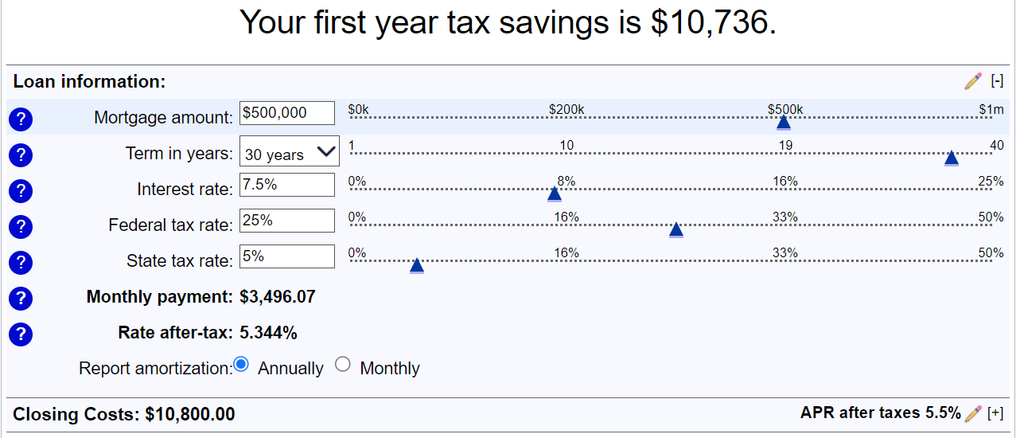 MAIN EVENT – REAL ESTATE OF NVA MARKET ANALYSIS
This report spans across the ten jurisdictions of the Northern Virginia Economic Development Alliance — a testament to its comprehensive embrace of the region's heartbeat. Engage with us, with a quarterly rendezvous of videos and insights that illuminate the path forward. 🌟🏘️🎢
Enjoy!
BOTTOM LINE
No one can predict with accuracy what will happen in the Real Estate Market, but one thing is for sure, rent is throw and always rises! 
We look forward to speaking with you as you stride towards your real estate aspirations in the place we call home, the realm we cherish — Northern Virginia.
---
As always . . .
Be sure to check out the:
Don't forget the Home Buying and Selling Guides !
Never miss an issue by subscribing below and I look forward to speaking with  you soon about your free Home Preparation and Market Analysis consultation!